Posted by Bleu Clothing on Sep 24th 2020
When you think of cargo pants an image of a sun-baked dad on vacation may be the first thing that pops into your head. But, we are here to let you know that the new season cargo pants are chic, elevated and will absolutely never be worn with a hawaiian print shirt. With new figure enhancing silhouettes that are available in an array of sleek fabrications you might actually toss your jeans to the side for these utility inspired trousers. From Rta Clothing to 3.1 Phillip Lim, designers across the board have upgraded this classic pant. We have chosen a few of our current favorites and are going to show you the different ways you can style these pants.
The Contemporary Cargo
This first pair of cargo pants is by RtA Clothing. The sleek silhouette features an elastic waistband that tapers into a V-shape that creates a gorgeous figure flattering shape. We chose to pair these modern pants with a crew neck sweater and black suede pumps; finishing off the look with a pair of gold lacquered mini hoops. The end result is polished, yet casual and perfect to wear for any day of the week.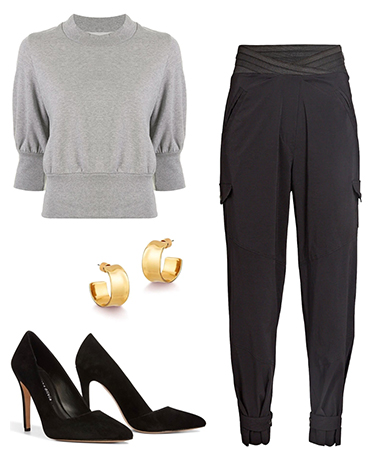 The Silky Cargo
Cinq a Sept has truly taken the classic cargo shape and reworked it into a gorgeous trouser that is as comfortable as it is stylish. The silky soft camo print fabric combined with the rib knit waistband and cuffs is ultra-fresh while still maintaining comfort. We styled these sleek cargos with a cowl neck bodysuit, leather moto jacket and some high heeled pumps to create an edgy ensemble you will want to wear on repeat.
The Cropped Cargo
Our last pair of cargo pants that we just can't get enough of are by 3.1 Phillip Lim. The trousers are cropped right above the ankle and have a wider leg, with silver snaps and zipper pockets that give off a modern, yet elegant vibe. We paired the pants with a floral blouse and ankle booties to give off a more feminine flirty vibe. Then, we finished the look with a pair of pink drop earrings and a cross body bag. The end result is polished and playful, perfect for a day out with the girls!
Which cargo pants were your favorite? Are you more of a RtA Clothing girl, or were you feeling the silky softness of Cinq a Sept? Leave a comment below or, let us know by tagging us on Instagram: @bleuclothing. Meanwhile if you are ready for more fashion and styling tips check out some of our other blogs like: Summer to Fall Style Tips.