Posted by Bleu Clothing on Aug 12th 2020
Just because traveling is on a temporary pause doesn't mean you can't have an amazing summer at home and around your local community! We have come up with some fun things to keep you entertained and enjoying your summer vacation or, staycation as we like to call it, to the absolute fullest.
Garden Gorgeous
Take your favorite book or maybe a new playlist right into your own backyard or a nearby park and sprawl out for a little afternoon power lounging in the sun. Throw on a comfortable sundress and some slides for a look of easy elegance. Then, finish off the outfit with a delicate necklace. You will feel revived and relaxed from spending some time outside and enjoying the peace and quiet.
Weekend Warrior
We absolutely love filling our homes with fresh flowers and what better way to do that then taking a trip to your local flower market? While picking out fresh buds, we recommend wearing a crisp and clean white crop top, some comfy taupe trousers and light pink high heels. Add a little sparkle to your look with a fun necklace and you will be ready to go.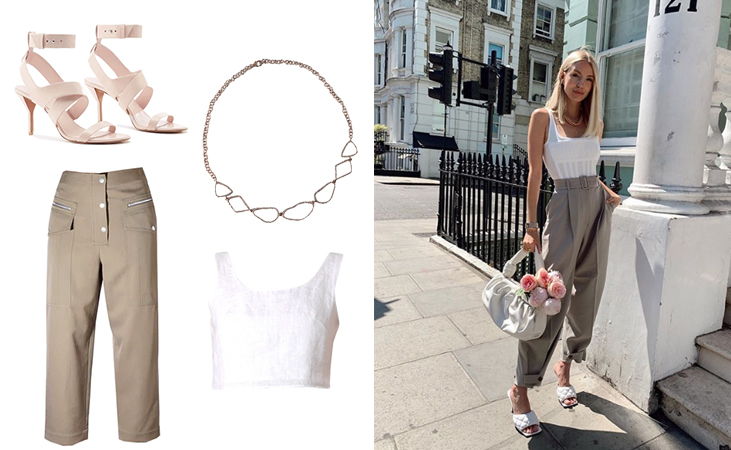 Picnic Perfect
Nothing says summer staycation quite like a picnic with your closest friends. Fill up a basket with your favorite charcuterie selections and a crispy, bubbly Prosecco for a day filled with laughter and fun. RtA clothing makes ultra-comfy denim shorts perfect for the occasion. Pair them with a pop color blouse, strappy sandals and some gold lacquered micro hoops for a chic daytime look.
Beachy Babe
Take a trip to the shore for an invigorating day in the sand. Let the sunshine, saltwater and good-times revive you. Put on a figure flattering black bikini and oversized blazer for an ultra-modern beach ensemble, then add a bold figaro link necklace and some tortoise shell sunglasses for show stopping style.
These are just a few of our favorite staycation activities. What's your ideal staycation? We would love to hear all about it and, better yet, see how you chose to style out your looks while having a blast! Tag us on Instagram: @bleuclothing so we can see what you chose. If you're loving these style blogs and would like to see more we recommend checking out some of our other blogs like: Recreate some of Carrie Bradshaw's most iconic looks