Posted by Bleu Clothing on Nov 20th 2020
When getting dressed in the morning, nothing makes life easier than the pieces that essentially style themselves. You don't have to put in too much effort and you still end up looking polished and put-together. The pieces we are speaking of are tailored separates. Chic blazers and tailored trousers that you can just throw on and go are the best of both worlds. 3.1 Phillip Lim and Cinq a Sept are just a few of the designers who have taken part in this chic and comfortable trend. We have grabbed some of our favorite pieces, to show you different ways you can style them for winter.
The Snake Print Duo
This teal snake print from Misa Los Angeles might be the perfect pop of color to add to your winter wardrobe. Both the pants and the blazer can be worn separately but, we love styling them together creating an electric head turning ensemble. The fabric is soft and velvety making these pieces perfect for the colder temperatures. We styled the tailored separates with a light pink camisole and matching strappy heels. Then finished the look off with some delicate chain drop earrings.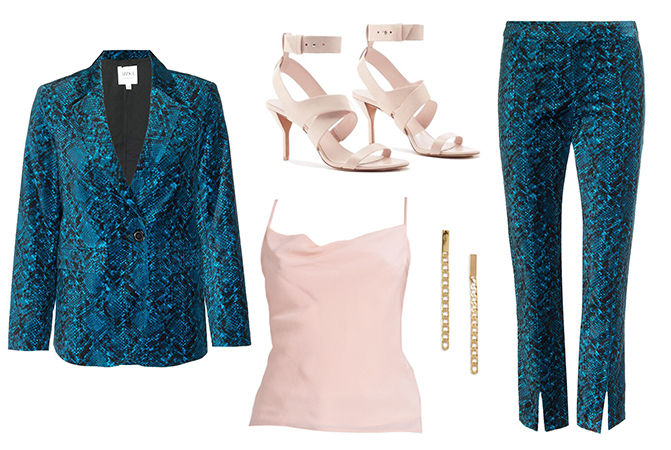 The Sweat Trouser
The Sweat Trouser
We absolutely love these cinched waist trousers from 3.1 Phillip Lim. Not only are the chic and polished looking but they feel like you are wearing a pair of sweatpants. It doesn't really get more comfortable than that. We chose to style these trousers with a cropped white sweatshirt, high heeled suede pumps and a cross body bag. The end result is an effortless, elegant vibe you will want to rock all winter long.
The Houndstooth Set
We are obsessed with this houndstooth suit from Cinq a Sept. The blazer has a relaxed fit and is adorned with jeweled pins that give it a vintage feel. The trousers are a chic, slouchy silhouette and taper in at the ankle. On their own, these pieces are head turners but together they create the ultimate cool-girl suit you will want to take over the world in. We paired these power pieces with a black cami and high heels pumps. Elegant, bold and totally swoon-worthy.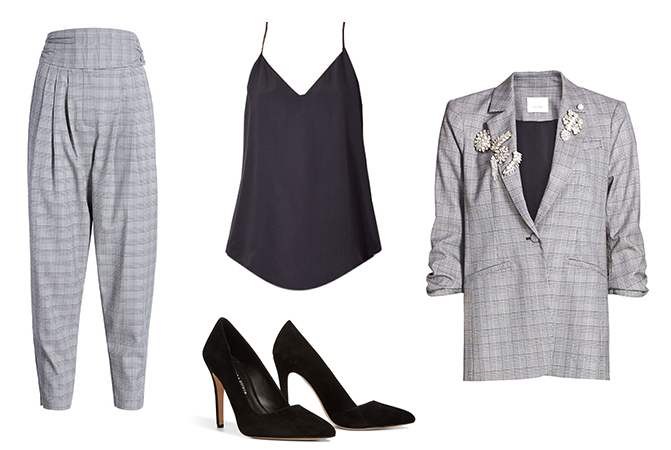 Which tailored separates were your favorite? And, would you choose to rock the whole suited look or, would you opt to wear them on their own? We want to hear about it and more importantly see the gorgeous looks! Just tag us on Instagram: @bleuclothing so we can see how you chose to style out these fabulous pieces. For more style tips, read some of our other blogs like: 4 Winter Trends to Try.