Posted by Bleu Clothing on Aug 25th 2020
When it's extremely hot outside it can be a bit of a challenge doing, well...anything at all. But, when it's unbearably hot outside AND you have to get dressed for work or maybe have a date you need to get ready for, it can feel like an impossible task. How does one look fresh and put together when the weather is in the triple digits? Well, we have put together a list of stylish outfits to help you look your absolute best even when the weather is at its absolute worst.
Work Chic
Looking elegant and professional in the workplace while wearing as little clothing as possible is not an easy feat. But, we think we just might have done it. This crisp white dress by Nicholas is lightweight and airy. The cotton fabric is extra breathable which makes it perfect for the heat and the silhouette is modern and perfect for a day at the office. Pair the dress with a floral face mask from Lavender Brown and some gold lacquered mini hoops and finish off the look with some strappy sandals.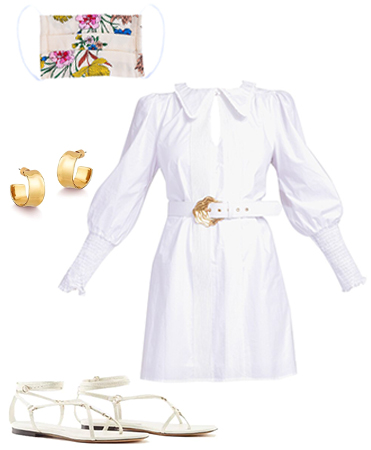 Girls Day Out
Going out for lunch with the girls but the heat has you considering canceling? Well, don't do that! We've got you covered. Just slip into a lightweight cowl neck cami and some denim shorts. Then, dress the outfit up with a silver figaro link necklace and some cute slides. Finish off your look with a matching Lavender Brown face mask and voila! You have put together a perfect beat the heat brunch ensemble.
Date Night
Finally meeting with the cute guy from Hinge you have been talking to all quarantine but it's still 95 out at 6:00PM? Well, the answer to this problem is a gorgeous jumpsuit from Cinq a Sept. The strappy Amia jumpsuit is silky soft and figure flattering. Pair this hero piece with some delicate gold drop earrings and strappy high heels for a flirty, fun look. Then, finish the outfit off with a matching floral face mask.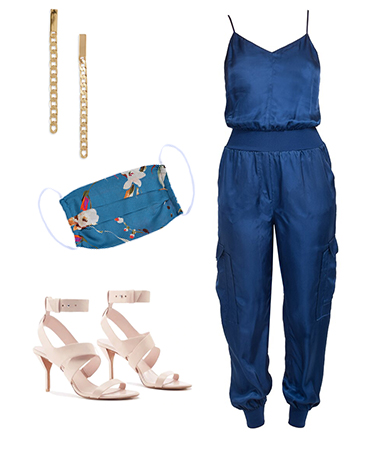 We never let anything hold us back, especially not the weather! Tag us on Instagram: @bleuclothing so we can see your gorgeous beat the heat style. Whether you chose to wear Cinq a Sept or maybe some Lavender Brown we want to hear all about it. If you loved this blog and are looking for some more styling tips check out our others like: What to wear on a Zoom Meeting.