Posted by Bleu Clothing on Aug 20th 2020
Video conference calls have become an integral part of working from home this year. And, getting dressed for a Zoom meeting can be a bit of a tricky task. You don't want to get too dressed up because you are still at home but, you don't necessarily want to wear your bathrobe either. Business at the top and more comfy and casual on the bottom is our new work from home motto and we are sticking to it! We have come up with a couple of outfits with designers like Lavender Brown, Alice + Olivia and many more to help make you the chic, comfort queen of all Zoom meetings.
Neutral Chic
A Crisp white button-up is a style staple that is always in fashion. We love this one from PAIRE because it's made from a lightweight cotton blend, and the puff sleeves are a fun and modern update to the classic silhouette. We recommend styling this top with a pair of nude pants. We know these pants look all business but they are stretchy and so comfortable that you won't want to take them off when your meeting ends. Finish off the look with some gold drop earrings and you have got yourself one fabulous work from home ensemble.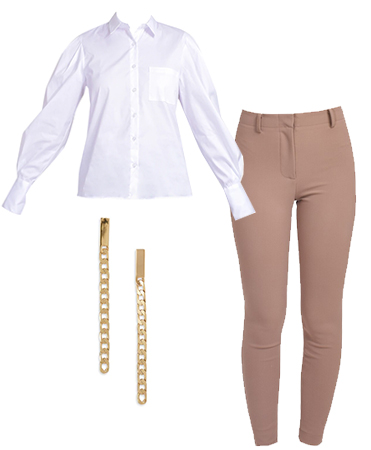 Vibrant Prints
Feeling a little on the bold side? Ready to make a colorful splash during your next big conference call? Then this floral printed blouse from Alice + Olivia is for you! The top is in a brilliant shade of chartreuse and it's silky soft. Pair this vibrant button down with some ultra-comfy black joggers and gold lacquered mini hoops for an elegant work-from-home outfit you will want to put in immediate outfit rotation.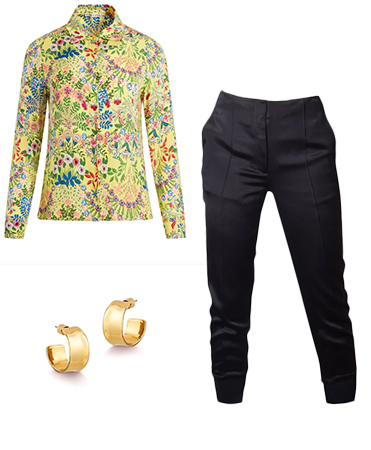 Modern Classics
We are all about elevated essentials that you will wear again and again. All of these pieces can be styled multiple ways on their own but, most importantly, when put together they make one amazing Zoom meeting ensemble. The Cowl Neck Cami by Lavender Brown is silky and smooth on the skin and the gorgeous misty rose color will complement all skin tones. Pair the top with a classic black blazer and some comfy yet, edgy snap cargo pants for a more modern vibe. Then finish it off with a figaro chain link necklace.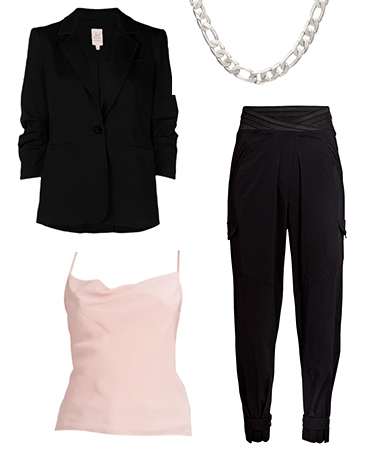 We would love to see how you chose to style your Zoom calls! Whether you went with the modern Lavender Brown Cami or the electric Alice + Olivia top we want to hear all about it. Or, better yet...we want to see it! Just tag us on Instagram: @bleuclothing so we can get a peek at your fabulous work-from-home ensembles.