Posted by Bleu Clothing on May 28th 2021
When in doubt on what to wear, look no further than your tv. We love finding fashion inspiration from our favorite style queens. This week we are getting in touch with our inner Gossip Girl. That's right, upper-eastsiders, it's time to get dressed up like Blair Waldorf and Serena Van Der Woodsen and walk into summer in head-turning style.
You know you love it.
XOXO Gossip Girl
Blair Waldorf
Blair is all about structured dresses, whimsical prints and feminine ruffles. For the first look we chose a shell print mini dress by Karina Grimaldi. This dress is all Blair, the bold print, the feminine puff sleeves and ruffles? Yes and yes, Queen B would approve. Pair the dress with strappy orange heels and a gold necklace to really polish the look off in Waldorf style.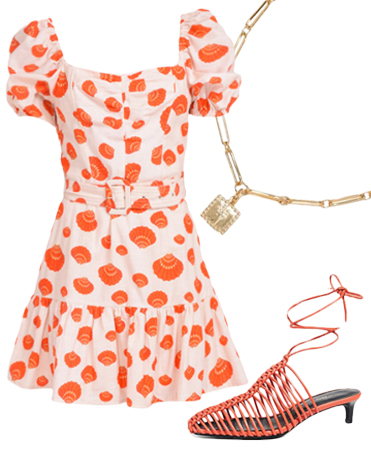 For the second Blair Waldorf approved outfit we chose a pale lavender mini dress made from a delicate cotton eyelet print. The dress features a ruffled hem and matching eyelet belt that is oh-so-Blair. Pair this dress with blush toned high heels and a matching purse, then finish the look off with some sparkle, à la Luv Aj Crystalline Hoops.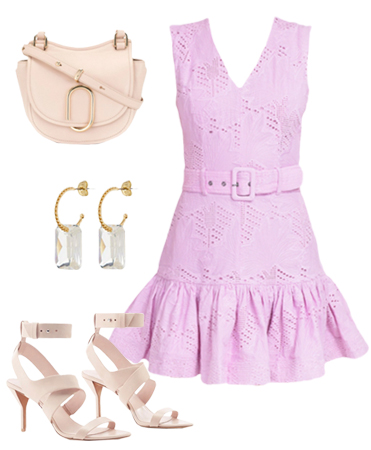 Serena Van Der Woodsen
Serena's style is more boho-chic with a rock star edge. Think over-the-top flowing dresses or bohemian yet glamorous ensembles for everyday style. For this first look we wanted to mix the two, tying the bohemian and glamorous sides of her into one fabulous look. So, we took a pair of silky magenta wide leg trousers and paired them with a loose white tank top and layered jeweled necklace. Finish off the look with a pair of burnished blush mules and there you have it, a Van Der Woodsen approved ensemble.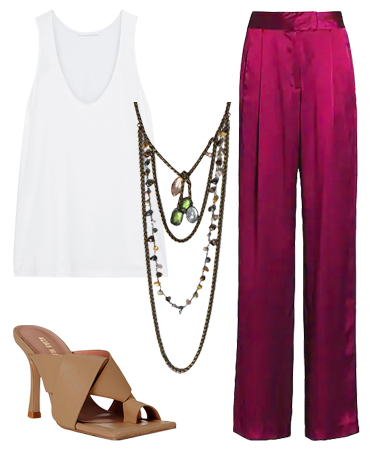 For the second Serena inspired look we chose a long flowing silk gown in a vibrant papaya color. This dress is head-to-toe glamorous and definitely Gossip Girl approved. Pair the wrap gown with a delicate gold pavé necklace and matching pavé hoop earrings for a little added sparkle and there you have it, a scene stealing Serena ensemble that will leave everyone awe struck.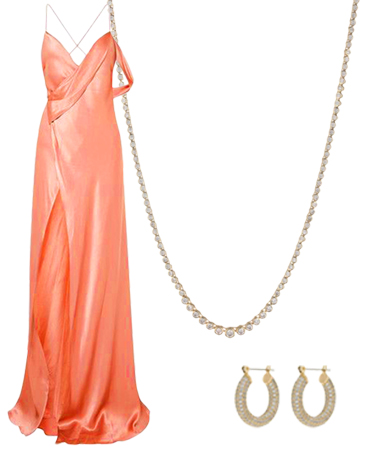 So, are you more of a Blair or a Serena? We want to know what styles you choose. From the Karina Grimaldi mini dress or the silky Serena-eque gown, which style queen will you be grabbing your outfit inspiration from? Tag us on Instagram: @bleuclothing so we can see your fabulous looks. In the meantime, check out our other TV wardrobe inspired blogs like: Recreate some of Carrie Bradshaw's most iconic looks for more style inspiration.