Posted by Bleu Clothing on Jun 15th 2021
We are all about creating a look full of vibrant colors. It's our thing, after all. However we must take a fashion pause for this summer's hottest, most trendy color, yellow. From vibrant and bright to mellow and sun-kissed, you can add an instant mood boost to your look of the day in this fantastic color. From Sabina Musayev to Alice + Olivia, designers can't get enough of the bold color either and we are here for it. So we have put together three different looks using yellow, that way you can see just how versatile this must-wear color is.
Contemporary Cool
Our first look with this season's star color is both modern and effortless. We took a ruffled hem tank top and paired it with some straight leg jeans that have a statement zipper running down the side. We love taking a feminine top and balancing it with a more edgy bottom. Then we added a pair of square toe mules in sage green to keep with the pastel palette, and finished off the look with a pair of gold draped earrings. And there you have it, a super easy way to work yellow into an everyday look.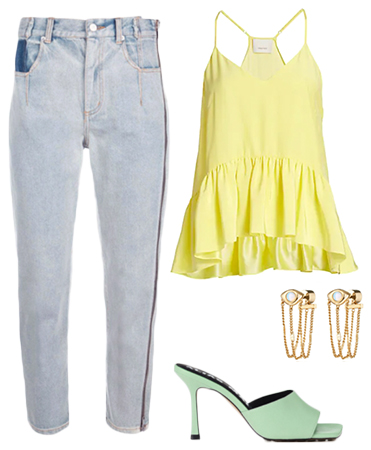 Laid-Back Casual
Our next look is easy, breezy and perfect for those hot summer days. This floral yellow blouse from Alice + Olivia can be worn both on and off the shoulders. For this particular styling, we like it off the shoulders and tucked into the high waist denim cut-offs. Then slip into a pair of western style ankle booties to really tie the look together. This outfit is perfect for your everyday errands but we really envision it at a summer barbecue with your friends or maybe an outdoor movie night with a glass of wine and charcuterie spread.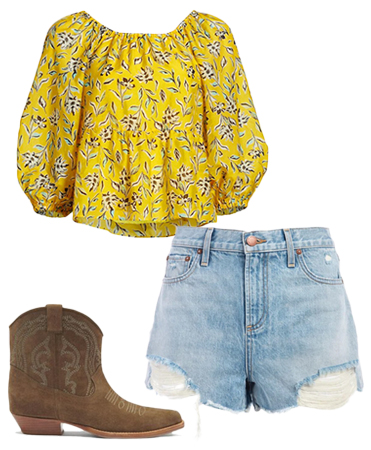 Glamorous & Edgy
Our final look is glamorous with a pinch of edgy badass. We started with a Sabina Musayev sunset colored maxi dress that has ruffle details on the sleeves and skirt with an open strappy back, and paired it with some lacquered gold chain link drops and a matching sequin bag. Then throw on a moto jacket for that edgy vibe we were talking about, and effortlessly take this knock-out day look into the night. We can definitely envision all the heads turning your way as you strut down the street in this stunning ensemble.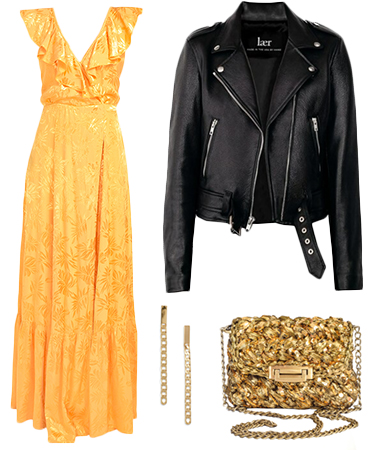 Which vibrant yellow look is the most your style? Contemporary cool? Or, maybe ultra-glam in Sabina Musayev? Let us know or better yet, tag us on Instagram: @bleuclothing so we can see the fabulous outfits in real life! For more tips and styling tricks check out our other blogs like: It's all about the BAG.