Posted by Bleu Clothing on Sep 11th 2020
We recently talked about dress silhouettes you can wear forever, which naturally leads to us thinking of another style staple: Skirts. You always want to have a great mix of skirts in your wardrobe, especially for those transitional seasons, because they are so easy to layer up for colder weather and to bare a little skin during the hotter months. You can easily throw a skirt on with a Lavender Brown cami and be set for the day. That's what we love, style that looks and feels great that you can wear multiple ways. We have chosen our four favorite skirt styles that are not only trending for fall but are trending for life.
The Slip Skirt
The silky soft slip skirt has been a style staple since the 90's and we are here for it. This slip skirt by Ba&sh has a fun print on it and pleats down the front waist for a more figure flattering fit. We paired this silky midi with a cropped white sweatshirt and figaro chain link necklace. The mix of casual and dressed up gives us a modern vibe that we love. Then throw on a pair of black pumps and a sleek cross body bag and you will be ready to conquer your day in style.
The 90's Mini
Speaking of the 90's...another silhouette that we always love to have in the mix is the miniskirt. This skirt from Alice + Olivia has studded accents along the waist and down the left side opening into a thigh notch. Pair it with a soft Lavender Brown cowl neck tank and some high heels and you will have the perfect outfit for a fun night out. Add in some hoop earrings and your favorite purse to put the finishing touches on this edgy ensemble.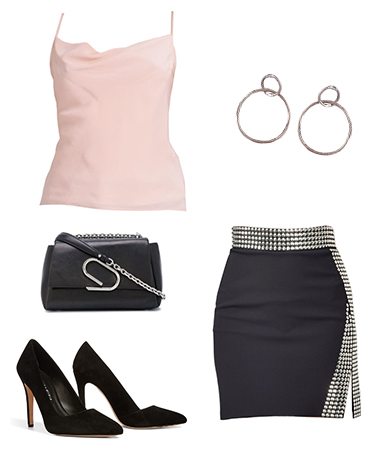 The Column Skirt
The column skirt is long and relatively simple in shape and silhouette, however, they are stunning and super fun to wear. This bright orange column skirt from Cinq a Sept is an absolute head turner. We decided to embrace the color and go for a more monochromatic look by pairing it with a matching crop top and shoes. Then, to play with proportions we added in a fun zebra print denim jacket and a pair of mini hoop earrings because sometimes a girl needs a little shine.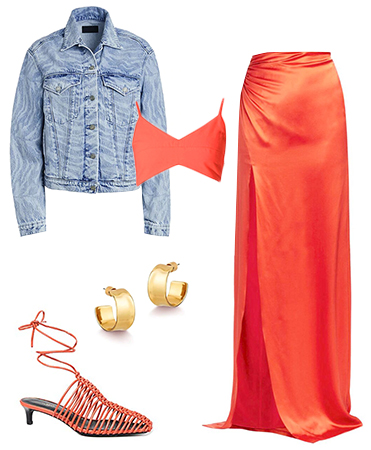 The Pencil Skirt
The pencil skirt is arguably the most classic skirt silhouette there is and for good reason. You can take it from the office to cocktails in a snap. Really, you can wear a pencil skirt any day of the week and it will always look great. This particular pencil skirt has a fun wrap feature in front giving it a super modern feel. We wanted to run with that so we chose to pair it with a striped cropped button-up with a high-low hem. Then, threw on some snake print high heels, gold chain link earrings and a nude mini purse for a super chic and contemporary outfit.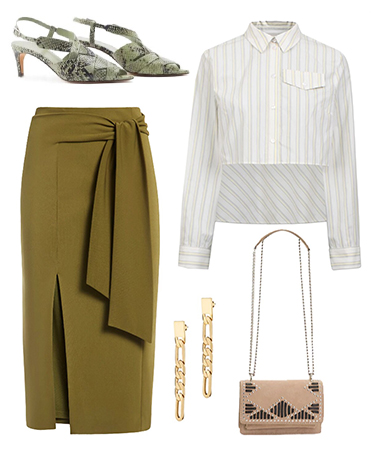 Which skirt silhouette is your favorite? The long, lean column skirt Or, perhaps the miniskirt? We want to hear how you chose to style out these classics! Just tag us on Instagram: @bleuclothing. Until next time take a peek at some of our other style blogs like: This Season's 'IT' Color: Chocolate Brown.