Posted by Bleu Clothing on Aug 27th 2020
We love a versatile piece of clothing and there is nothing quite as versatile as a rib knit wrap top. The ways to style and wear the top are endless. But, did you know that you can get creative with ways to tie and wrap the top? We have come up with a few different ways to wrap and wear the top to help enhance your everyday style.
The Classic Wrap
The first way to wear the rib knit top is to wrap it classically. Which is taking the pieces and wrapping them twice around the waist, then knot the top at the side so it's secure. We styled the classic wrap with some super modern cargo pants from RtA Clothing and a pair of cute strappy mules. Finish off the look with hoops, a lavender face mask and matching bag from IRO Clothing you will be good to go. This look is classic with a modern twist that you will want to wear again and again.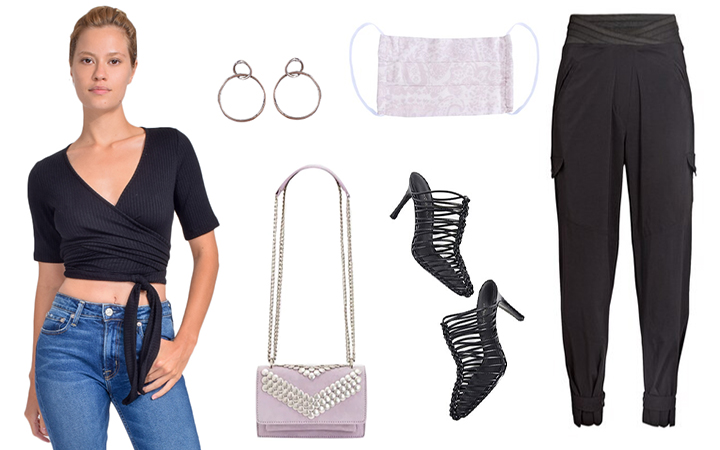 The Off-The-Shoulder Wrap
The second way to wrap the top is to slide the shoulders of the top off of yours. Then, take then wrap ties and wrap them around your waist twice and secure in a knot at your side. This is a flirty and fun way to wear the rib knit top. Pair the off-the-shoulder wrap with some paper bag waist jeans and cross body bag. Then, complete the look with light pink booties and a matching face mask for a style that is chic and feminine.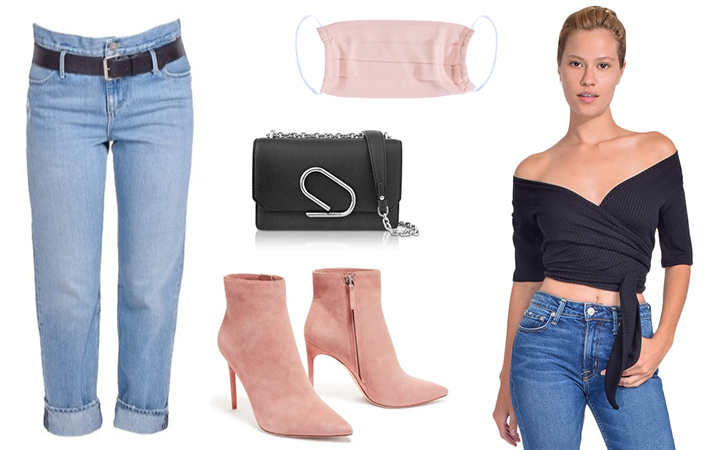 The Statement Knot
The third way to wear the wrap top is to simply knot it in the center. The look it creates is bold, edgy and absolutely perfect for the swelteringly hot days we have been having. Style the top with some silver statement trousers and sleek black pumps. Then, tie the whole look together with a black face mask, cross body bag and silver figaro chain link necklace. You will be serving up looks wherever you go in this sexy ensemble.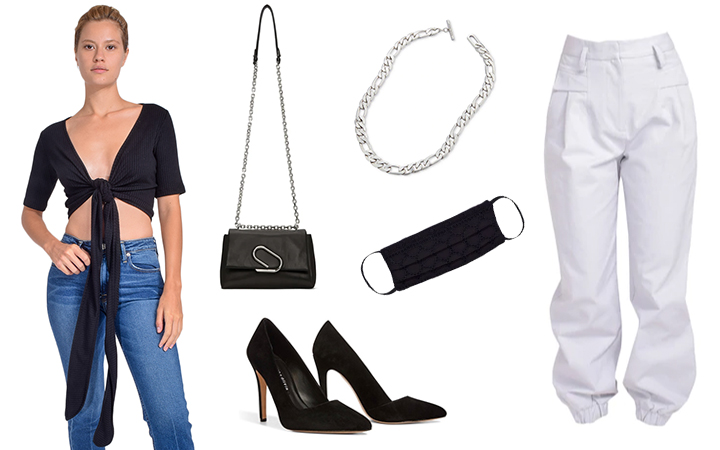 Let us know how you decided to wrap the rib knit top and how you styled it! Whether you went with one of our outfit ideas like the cargo pants from RtA Clothing or, if you styled it completely differently we want to see it. Just tag us on Instagram: @bleuclothing. If you loved this blog we recommend checking out some of our others like, Stylish Outfit Ideas for When It's EXTRA HOT outside.