Posted by Bleu Clothing on Jan 25th 2021
During the colder months of winter it's easy to fall into what we like to call a 'color rut'. Black, brown, grey and neutral tones get worn much more frequently simply because they reflect the colors we are seeing on a daily basis when we venture outside. Adding in vibrant pop color will not only help to revitalize your winter outfits, but also act as an instant mood lifter. We chose three highly saturated colors that are super trendy, and we are going to show you a couple easy ways to style them into your daily wardrobe.
Tangerine
Vibrant orange hues are a big trend right now and we love it. The warm tangerine tones will make your skin look glowing and help to energize you throughout the day. If you're hesitant to try such a bold color we suggest finding one main statement piece, like this mini dress from Cinq a Sept, and pairing it with more neutral colors. We chose to style the colorful mini with a leather moto jacket and lace front military boots to help give the look a little edge while also staying comfy and warm in the cold weather. Then, finish off the look with a sleek cross body bag and you will be set.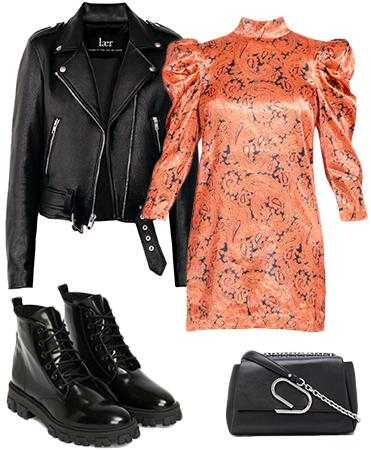 Bubblegum Pink
Pink is definitely a favorite color of ours, and for good reason! This bubble gum pink hue pairs perfectly with all kinds of colors and is super easy to integrate into your wardrobe. We chose this pink chunky knit sweater to style today because sweaters are a closet staple and an absolute must-have during the cold winter months. We paired this oversize sweater with high waist wool pants that cinch at the ankles and a pair of high shine lug sole boots. The end result is a refreshing look that is comfortable and polished.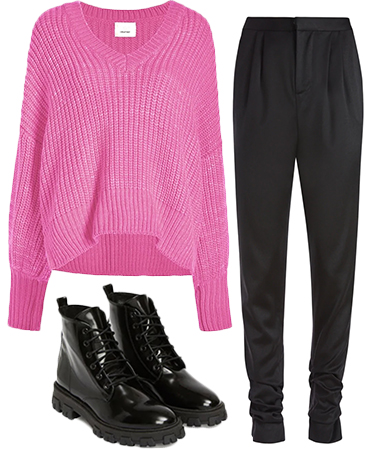 Pale Yellow
If you are looking for a softer and more subtle approach to adding color into your wardrobe then, pale yellow is the color for you. This color will help add a touch of warmth to any winter look in a snap. We chose to style this butter yellow leopard print bustier top with a pair of vegan leather trousers because we love mixing different textures. Then we topped off the look with a tartan midi jacket to create an ultra-cool look with figure enhancing proportions. Throw on a pair of pumps and you've got yourself an elegant winter ensemble that is sure to turn heads wherever you go.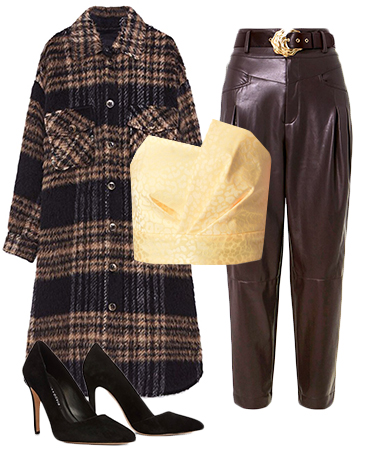 Which vibrant color will you be infusing into your wardrobe? Is the tangerine mini dress from Cinq a Sept more your style? Or, perhaps the more subdued yellow hue? We want to see how you chose to style these fun colors into your everyday wardrobe so don't forget to tag your looks on Instagram: @bleuclothing. For more styling tips and tricks we recommend checking out some of our other blogs like: Noteworthy Knitwear.