Posted by Bleu Clothing on Feb 21st 2021
As we make our way out of the colder winter months and into the warmth of spring, it makes getting dressed in the morning a little bit challenging. You want to be warm enough for the cold, but also not too hot for when the sun makes an appearance. Much like Goldilocks, you want your temperature to be juuust right. So, we have put together a transitional style guide to make getting dressed for these tricky days much easier.
Mixed Materials
Our first tip when dressing for multiple temperatures is to mix your fabrics. For instance, take a warmer leather jacket, like this ruffle hem number from Cinq a Sept, and pair it with a lightweight chiffon skirt. The jacket will keep you warm, while the skirt adds a vibrant pop of color to your look and keeps you from overheating. Then throw on some strappy sandals and you will be set for the day.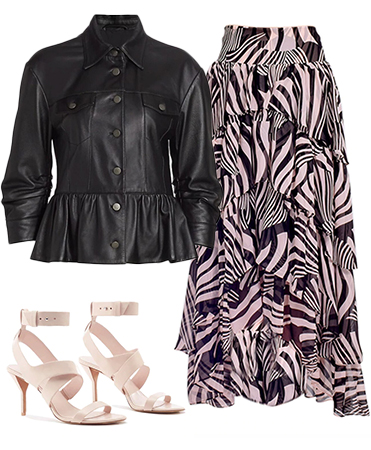 Strategic Layering
Our next tip is all about strategic layers. For instance, try swapping out your go-to jeans for a pair of denim shorts. Then pair the shorts with a lightweight knit sweater and some biker boots. The shorts are a casual nod to spring, while the boots and sweater will help you keep you toasty. Finish off the look with a pair of hoop earrings and you will be good to go.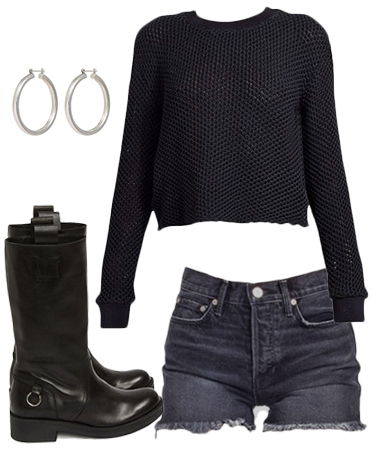 Pop Colors
Our last tip is to work in bright colors. Here we took this little black dress from RTA and brightened it up with a denim jacket and some vibrant strappy mules. The long sleeve dress and jacket will make sure to keep you from getting cold, while showing off your legs with the vibrant heels will give you a more summery feel. Who said getting dressed in the morning had to be a chore? Certainly not us.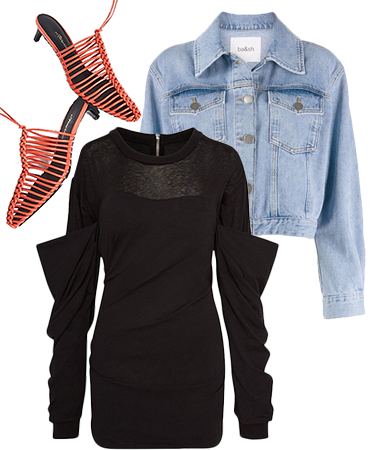 Using these style guidelines will make going from winter to summer easy breezy. Let us know which tips you will be trying out! Will you go the leather route in Cinq a Sept? Or perhaps work in some strategic layers? Tag us onInstagram: @bleuclothing so we can see how you chose to style for the transitional weather. For more tips and tricks read some of our other blogs like: 5 Boot Styles Worth Investing in 2021.