Posted by Bleu Clothing on Oct 1st 2021
With Fall just around the corner, we usher in what can be a confusing time of year style-wise. It's still a bit warm out, but starting to get colder and everywhere you look you see fall pieces. But it's not quite time yet to pull out your winter coats. And that is exactly why we are here, to help you transition into fall style effortlessly. We are going to break down a couple looks with key pieces you need for nailing transitional style with ease.
Midi Dresses
Dresses are key in transitioning into fall style. This midi dress from Jonathan Simkhai is made from a lightweight nylon/ wool blend making it perfect for those days where it's not quite hot but not quite cold. The long sleeves and wrap waist are figure flattering and give you the look of fall style without the heavy layers. Pair this midi dress with some neutral strappy heels and gold accessories for an effortlessly chic ensemble.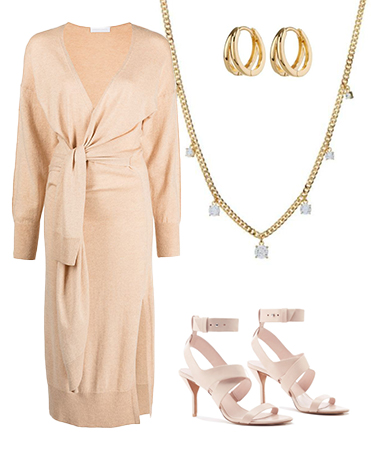 Matching Separates
We love matching separates because together they make a no brainer cute outfit that you can just throw on and go. But then on their own you can style them up as you please. It's versatility at its finest. This matching skirt and top combo is in a rich chocolate color, perfect for this transitional time period. The top has long sleeves and an open back while the skirt wraps seductively around your waist. Style this dream team duo with light pink heels and a matching bag, then finish off the look with some layered hoop earrings. The end result is a polished yet modern look that will take you into the next season with ease.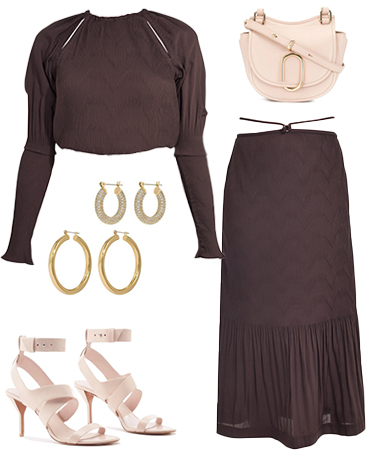 Earthy Tones
A switch in color palette is an easy way to capture the look of fall while it's still kind of warm out. These earth toned pieces from Cinq a Sept fit that category perfectly. The warm, olive tones make you think of leaves changing and crisp weather, while the open back of the ruffled crop top and the midweight cotton trouser will still keep you cool. Style the look with a neutral toned ankle bootie and some hoop earrings for a casual and contemporary outfit.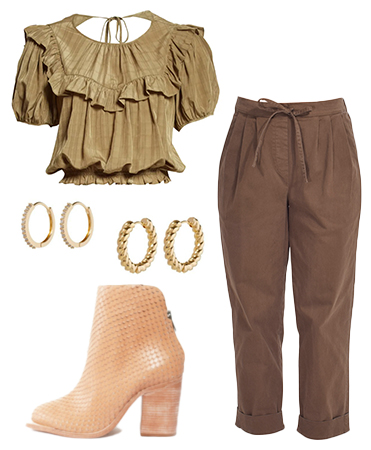 Which mid-season style staples are your favorite? Will you be trying out lightweight knits from Jonathan Simkhai or keeping it neutral in earth toned hues from Cinq a Sept? Let us know or better yet show us! Tag your transitional fall outfits on Instagram: @bleuclothing to show us your looks. For more style tips and tricks check out some of our other blogs like: Style Essentials Every Wardrobe Needs.