Posted by Bleu Clothing on Dec 30th 2020
As this year starts to come to a close, and we prepare for New Years Eve, we are here to tell you that you can still dish out absolutely stunning outfits to ring in the New Year. From celebrating at home to perhaps ending the night with a kiss from your significant other we have a list of our 5 favorite things to do this New Years Eve and the perfect look for each festive activity.
Date Night
Dinner for two? There's nothing like getting dressed to the nines and ringing in the new year with your significant other. Maybe a candlelight dinner with the perfect red wine? Or, perhaps dancing under the moonlight in your backyard? There is no wrong answer when it comes to planning something special for the person you love. And the perfect date needs the perfect outfit. A little black dress splashed with sequins from Cinq a Sept, a pair of sky high pumps, and some silver hoops will create a chic, flirty ensemble.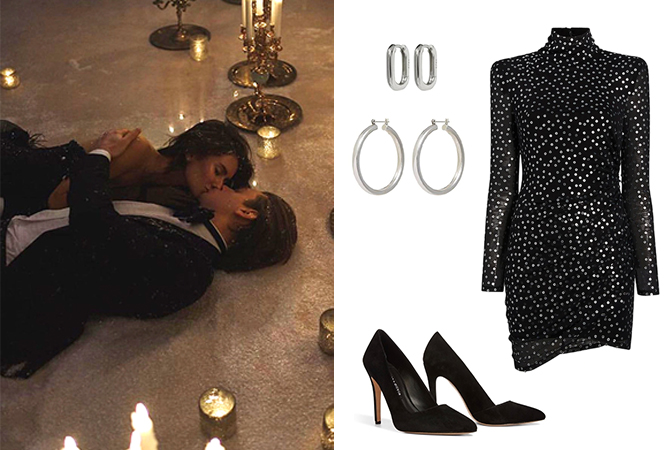 Movie Night
We love a good movie night! Curled up with your favorite snacks and perhaps some champagne while watching the latest blockbuster hit or... re-runs of Sex and the City. (We won't judge, it doesn't get much better than Carrie Bradshaw.) And nothing says movie night like a cozy and chic leisure outfit. This matching leopard set from JET is super soft and comfortable. And we must warn you, because once you put it on, you won't want to take it off.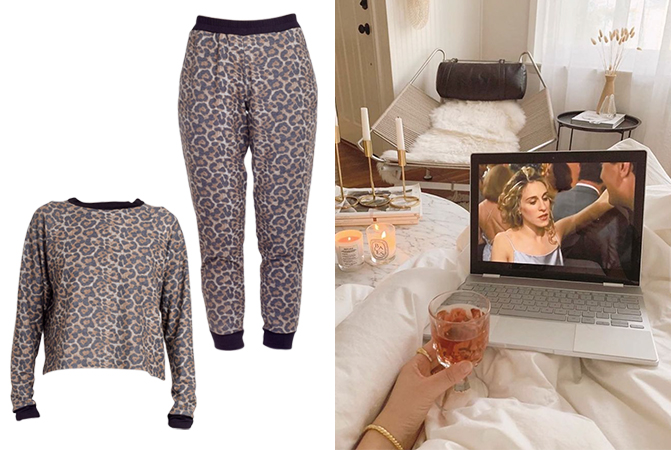 Hangin' with your Pod
Whether you're celebrating the New Year via a group zoom or hanging with your pod in person, a cute sweater and leggings is always a great outfit. We chose this vibrant lime green turtleneck sweater and styled it with a pair of black latex leggings from Alice + Olivia. Then finished off the outfit with a pair of sleek leather boots. The look is bold, edgy and comfy all rolled into one.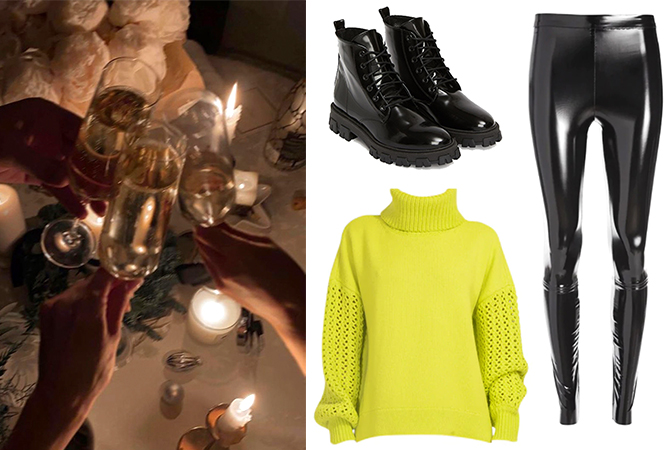 Game Night
Bust out your favorite board games and go into the New Year spending quality time with your family. Whether you choose to play Scrabble, Sorry! Or, if you are daring... Monopoly. You can still look stunning while kicking your family's ass. We chose these matching separates from Misa Los Angeles because they are super comfortable and made from a stretching, drapey fabric perfect for lounging around in. Also, the metallic green coloring is gorgeous and festive for NYE.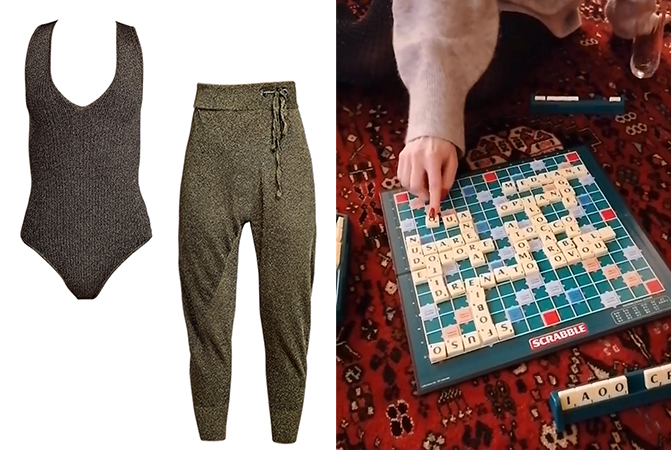 Parallel Universe
In a galaxy far, far away...you can still go out on New Years Eve. And let us tell you we are actually jealous of the galaxy that you reside in. Because this Cinq a Sept work of art is the dress that could've been. All over sequins, a daring low cut back with a side slit its... *Italian chefs kiss* perfect. Paired with some black pumps and a crossbody bag, This look would've been the ultimate head turner at any soiree.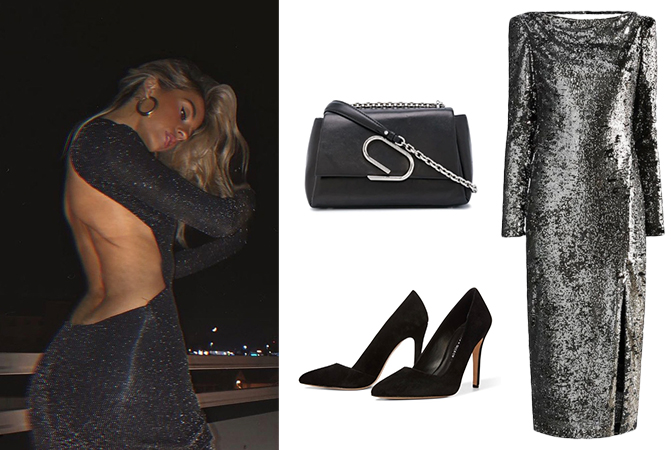 We want to know what you decided to do to ring in the New Year! And we of course want to know what you wore! So tag your NYE looks on Instagram: @bleuclothing. We hope you all have an amazing New Year and thank you so much for all of your support. We love and appreciate you so much! For more styling suggestions we recommend checking out some of our other blogs like: Dressing Made Easy: Jumpsuits.