Posted by Bleu Clothing on Oct 9th 2020
There is something about the changing of seasons that just makes you want to take your wardrobe and mix it up a bit. In the fall especially, we love to add in game changing pieces that will make the rest of your clothes feel brand new. And right now that game changing piece is: leather. From bold colors to wild prints we are fully obsessed with all things made in a rich, buttery leather. Designers like Karina Grimaldi and Laer have created sumptuous leather pieces that you will want to wear forever.
New Season Snake Print
Take a walk on the wild side in gorgeous leather snake print from Karina Grimaldi. We love pairing the pants and matching leather jacket with a gold silky blouse. The gold mixed with the neutral snake print coloring creates a luxury look that we can't get enough of. Then finish off the ensemble with some suede pumps and lacquered gold hoops. The end result is sleek, polished and totally head-turning.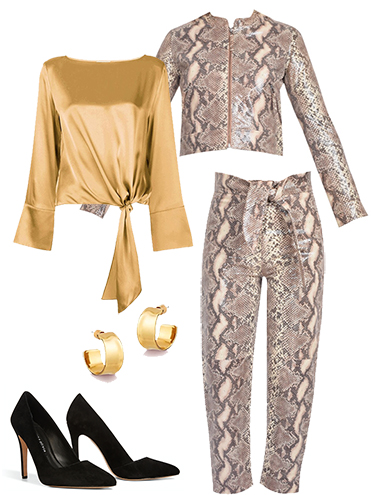 The Leather Classic
A leather motorcycle jacket is a classic style staple every woman should have in their arsenal. This particular leather jacket by Laer and is completely handmade in the US. We styled the jacket with a silky floral blouse and skinny stretch trousers. Then, we finished off the look with a pair of sleek riding boots. The look is edgy yet, polished and perfect for the crisper, colder fall weather.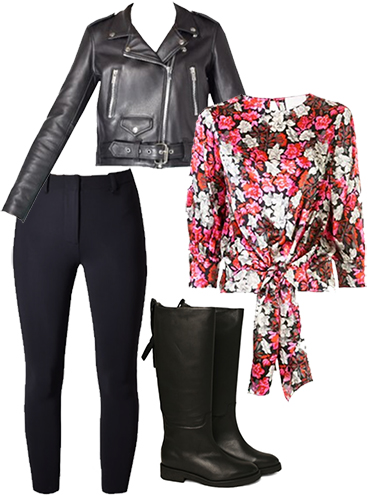 Pop Color Leather
Make a statement in a gorgeous red leather trouser. These Karina Grimaldi trousers have a tie front detail and straight leg cut that is super figure flattering. We paired the trousers with a soft black knit sweater and high heeled pumps. Then, we added a cross body bag to tie the whole look together. We love mixing a more daring piece, like the leather pants with something softer, like the sweater, to create a chic, balanced ensemble.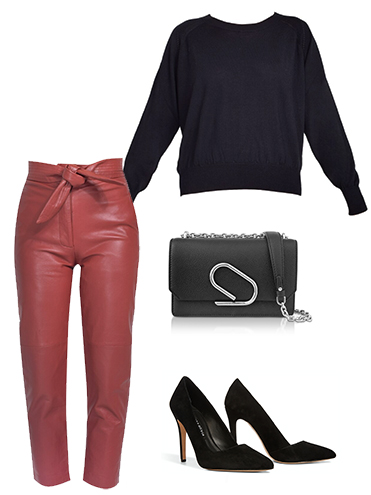 With fall steadily approaching will you be embracing your inner leather lover? We would love to see the looks you put together. Just tag us on Instagram: @bleuclothing. If you're looking for some more fall trends to look forward to check out some of our other blogs like: Enchanting Fall Florals.