Posted by Bleu Clothing on Jul 20th 2020
When you find that one game-changing item that you love, you tend to want to wear it over and over again. A great way to continue rocking your favorite pieces is by simply changing up how you style it. Finding multiple ways to style one garment gives you versatility while keeping your look fresh.
The Slip Dress

When styling a silky soft slip dress like this Michelle Mason dress the options are limitless. You can pair the slip dress with an oversized denim jacket and strappy sandals to create a more casual chic outfit. Then, finish off the look with a bright pop-color purse. If you are looking for a style that's more edgy for a fun night out, pair the slip dress with a leather jacket and black pumps. Add in a Sabina Musayev statement necklace and a crossbody purse to finish off the ensemble with a bit of extra glamour.
The Jumpsuit

Jumpsuits are amazing. They give you the ability to throw on one piece and be ready to go. However, sometimes you end up in a styling rut where you wear the jumpsuit exactly the same over and over again. To remedy this, we have some easy ways to switch up your look. For a more playful, daytime outfit, try pairing your jumpsuit with light pink slides, a freshwater pearl square necklace and a pair of tortoise shell sunnies. If you want to dress it up a bit more, try adding a silver tiered statement necklace with a chunky belt at the waist to enhance your figure and finish off the look with a pair of strappy mules.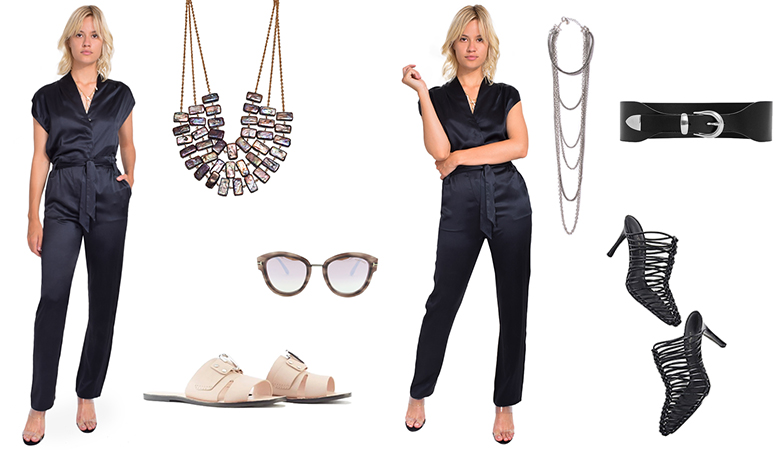 The Little White Dress

The little white dress is a summer classic. Fresh and lightweight, perfect for those balmy days. If you want to kick your style game up a notch on this wardrobe staple, try pairing the dress with a denim jacket, pale grey sandals and three-tiered silver studs. This will give you a relaxed, feminine look. Or, you could try pairing the dress with a cropped, embroidered jacket, some light pink heels and baby hoops for instant bohemian glamour.
If you love these styling tips, check out some of our other blogs like, Dressed to Impress in Misa Los Angeles. Follow us on Instagram: @bleuclothing and tag us so we can see all of the fun and fashionable looks you create.