Posted by Bleu Clothing on Feb 3rd 2021
We are now about a month deep into 2021 and fashion week is in full swing, bringing us the latest and greatest street style trends. There is nothing we enjoy more than devouring beautiful fashion trends and using that knowledge to create new and striking outfits. That being said, we have done our research and narrowed it down to our top 5 favorite street style trends your wardrobe will thank you for. From relaxed tailoring in Alice + Olivia to delicate embroidery from Ba&sh, this style breakdown is about to give your wardrobe the boost its been waiting for.
Puff Sleeves
It's time to say hello to extra dramatic sleeves! From tops to dresses, puff sleeves are all the rage for 2021. Sleeves with a little extra volume are a great way to infuse playful femininity into your outfits with ease. We chose to style this black tiered puff sleeve midi dress for our first look. Belt this midi at the waist for a figure enhancing fit and then throw on a pair of lace front lug sole booties to add a dash of edginess to the look. Then, finish it off with a pair of chain link earrings. The end result is a comfortable yet chic outfit you will want to wear on repeat.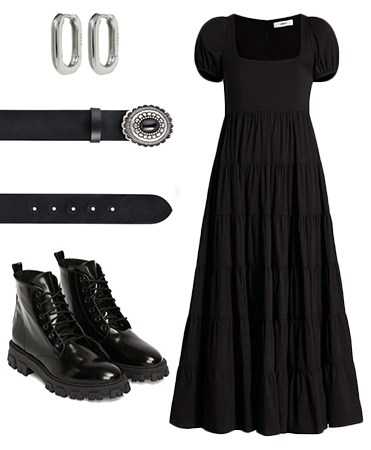 Bra Tops + Blazers
Another swoon worthy street style trend we can't get enough of is bra tops paired with oversize blazers. You might be thinking, "Lingerie as a top?" but hear us out. By pairing the more risque top with a boxy, oversize blazer the look is balanced and ultra chic. For this look we paired a reptile print bustier with a leopard print blazer for a fun mix of textures. Then, add in a pair of paper bag waist jeans and silver hoop earrings and you've got yourself an edgy, head turning look.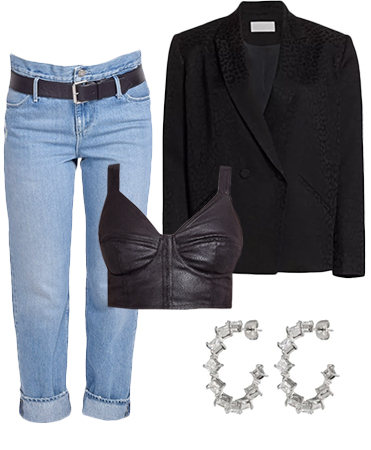 Eyelet Textures
Another must-try trend for 2021? The ever-elegant eyelet look. From Whimsical dresses to bohemian style tops, eyelet embroidery can be added effortlessly to any style. For the next look we chose a feminine eyelet embroidered top paired with high waisted black coated skinny jeans. To finish the look with a little sparkle add a pair of delicate crystalline hoops. Now you have yourself a modern, boho-glam look that you can wear year round.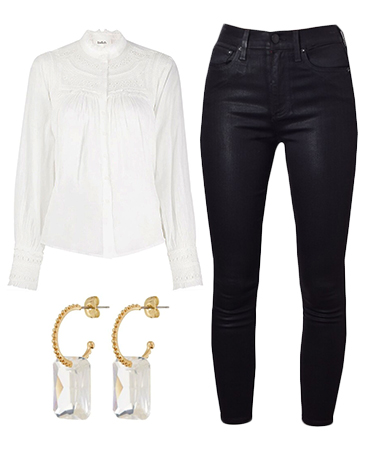 Sheer
Sheer is back and this time, it's all about layering. Sheer tops layered with camisoles or bra tops, or sheer dresses over jeans or shorts. However you dare it, you can wear it. From black to pastel tones sheer is a great way to layer without adding too much bulk. We chose to style this vibrant sheer top from Baum Und Pferdgarten with sleek wide leg trousers that will make your legs look a million miles long. Then add a gold chain link necklace for a dash of modern, polish and you will be all set to rock one of this year's best trends.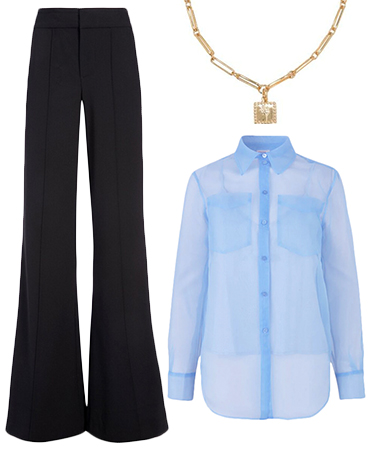 Tailored Trousers
Relaxed elegance is made easy in perfectly tailored trousers. Tailored pants are practical, comfortable and oh so stylish. From pleated and tapered to sleek and buckled, there is a trouser style out there for everyone. We chose to style a timeless peg leg trouser from Alice + Olivia. This trouser features a contrasting waistband and pockets with front pleats. We wanted to go for a more minimalist look this time, so we paired the pants with a fitted black crewneck tee and a pair of silver hoops.
There you have it! Our 5 favorite street style trends to try. Let us know which trends are your favorite and show us how you styled them by tagging us on instagram: @bleuclothing. For more styling tips and street style trends we recommend checking out our other blogs like,