Posted by Bleu Clothing on Dec 9th 2020
Classic, flattering and always in style; the black satin coat is a closet staple you will wear forever. Not only will this coat keep you warm throughout the cold winter months but you can style it so many different ways. From casual to edgy and everything in between, we are going to show you all the fabulous ways to wear this on trend winter coat.
Casual & Cool
Our first look is super comfortable while also being contemporary-cool. We have paired the black satin coat with a sumptuous square neck bodysuit and a pair of edgy 3.1 Phillip Lim jeans. These jeans have a statement zipper running down the side of the left leg that can be worn closed or open for a more funky vibe. Complete the look by accessorizing with layered hoops and a pair of lace up military boots. We like to leave the laces on the boots open and loose for a care-free, effortless look.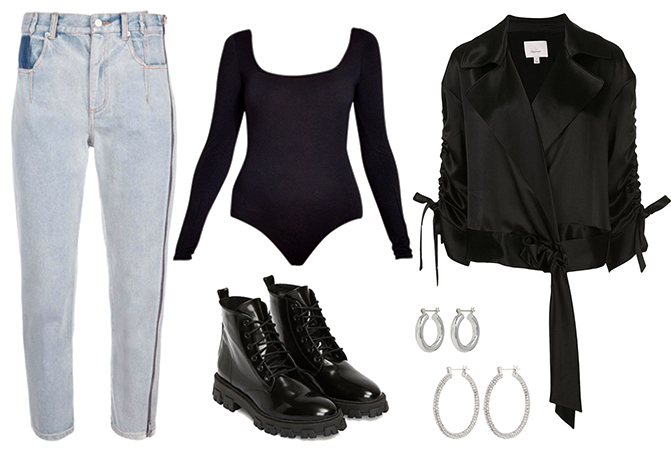 Sleek & Chic
If you're looking to up the ante without being too overdressed, we recommend pairing the satin coat with tailored trousers. The trousers we chose are from White Sand and have a metallic red ribbon that runs down the side and through the waist that adds a nice vibrant pop of color. Then, tuck a slate gray tank into the trousers and add a pair of high heeled pumps for a crisp, clean look. Last but not least, accessorize the outfit with chain link earrings from Luv AJ.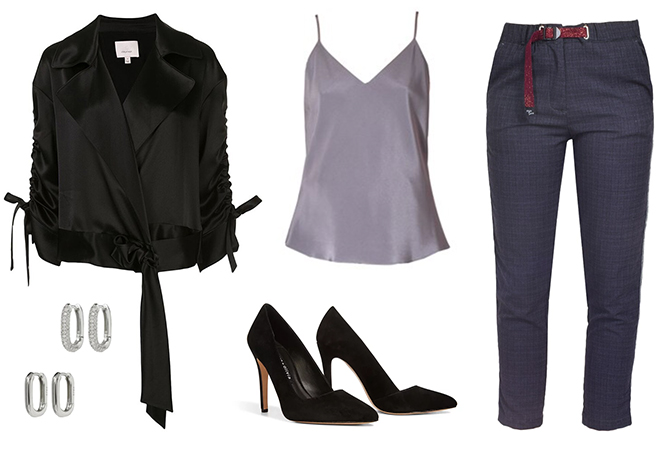 Glam Grunge
If your weekend style agenda is to look glamorous but also comfortable, try pairing the coat with denim cutoffs and a grey t-shirt with crystal brooches. The bedazzled accents in the t-shirt will give you that glamour you are craving while the denim cutoffs keep with the grunge theme. Complete the look with a pair of knee high leather riding boots and a sleek black crossbody bag.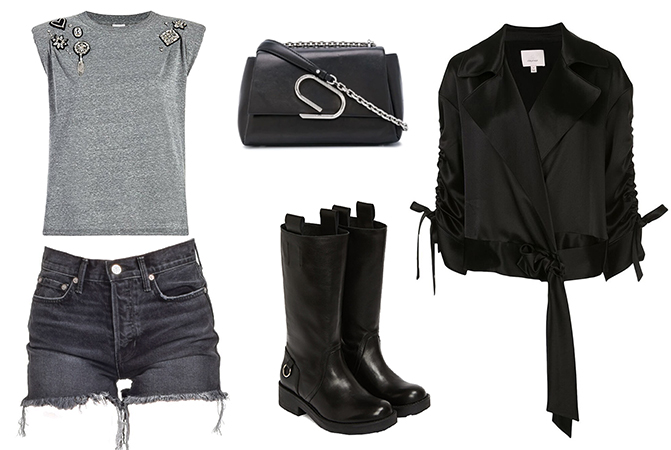 Flirty & Fun
Keep it playful and fun by pairing the satin coat with a floral mini dress. We love this number by Misa Los Angeles because the layered ruffles and bright floral pattern give it a super feminine feel. Add a pair of lace up military boots to the outfit to keep that flirty yet, fun vibe going and tie it all together with a cross body bag. A perfect winter day outfit that will keep heads turning wherever you go.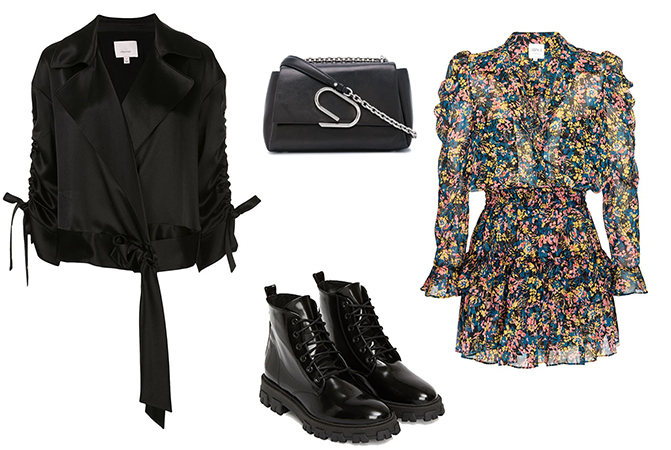 How would you choose to style the black satin jacket? Would you edge it up with 3.1 Phillip Lim jeans? Or is glam grunge more your style? Let us know by tagging your looks on Instagram: @bleuclothing. For more style tips and tricks we recommend reading our other blogs like: Winter Weather Must-Haves.