Posted by Bleu Clothing on Jan 7th 2020
Once the Globes nominations came out, we started to think about how each woman's outfit can have a narrative. We could not wait for Sunday night to jot down some seriously sweet looks at the Golden Globes. After going through all the stunners, we are rolling out our best matches with the looks from 77th annual Golden Globe Awards.
The red carpet looks are always watched by the fashion police, and it's exciting to see everyone's review of their favorite dressed, not to forget the memes if any of the celebrities made a boo-boo in their choice. And if you are looking to wear any of their looks, these close matches can be your top picks.
Let's have a look at our matches with some of the spectacular style moments which inspired us.
Saoirse Ronan in Celine and Atelier Swarovski jewelry looks like a perfect match with our Emily Gown from LIKELY. This dress reminds us of a glass of champagne, we say cheers to this complete look.
Phoebe Waller-Bridge in Ralph & Russo, Christian Louboutin shoes, and Irene Neuwirth jewelry. This look can win all the awards. Black and gold is a captivating combination and when it's a power suit we give it a 10/10. If this is something you would wear, then shop our ZHIVAGO Karijni Jacket and matching pants.
Laura Dern and Patricia Arquette have a definite style that is very curated. Laura Dren is wearing a black gown from Saint Laurent by Anthony Vaccarello, and Patricia Arquette is wearing a gown which has the same aesthetics. And the good news is both the gowns match our Lennon Maxi Dress In Royal Blue/Gold from Rachel Zoe. We think this gown is for women who are passionate about fashion and have a fairly defined style and we know that's our readers.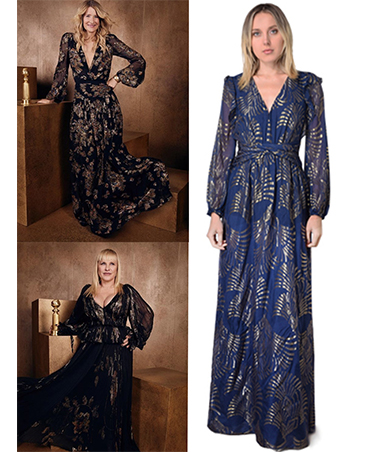 Who can tell Ana de Armas as a newcomer at the Golden Globes as she nailed her look at the 2020 awards show. The Best Actress nominee looked every bit the seasoned star in a sparkling strapless Ralph & Russo gown, styled by Karla Welch in a classic red lip. Well It's hard to wear ball gowns to every event, so we have some inspired looks. Michelle Masons Netted Sequin One Shoulder Mini Dress In Midnight Blue has the glam of red carpet and the comfort of a dance floor. If you are a gown girl and like to show-off those shoulders then we bet you will not miss on the Silk Charmeuse Crystal Asymmetrical Gown In Midnight Blue by Michelle Mason.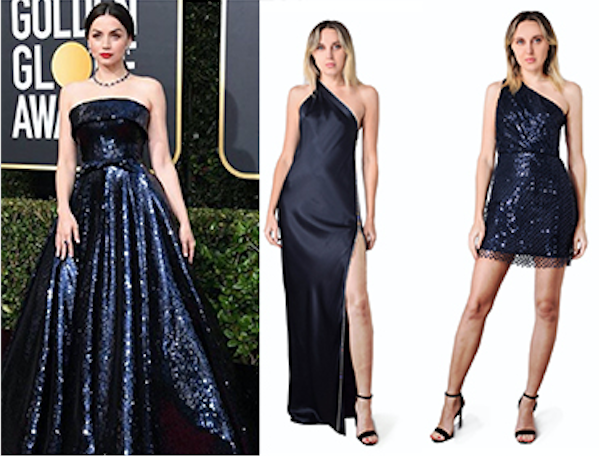 Kat Graham looked HOT in Georges Hobeika thigh slit edgy Red Gown and we think the cowl neck dress from Michelle Mason is a close match to this look.
"There is no greater feeling than when someone tells me that I've made their day better with my show," the comedian said, in her acceptance speech on Sunday night, and we think there can be no one slaying the shimmer suit from Celine like Ellen DeGeneres. We know sequins and shimmer have been ruling fashion for a while, so we make sure to have them at the store. A close match to this look is our CINQ À SEPT Isha Button Up Top in Onyx Sequin and JET JOHN ESHAYA Sequin Liza Pant In Black. Add them to your closet and glam up your fashion game.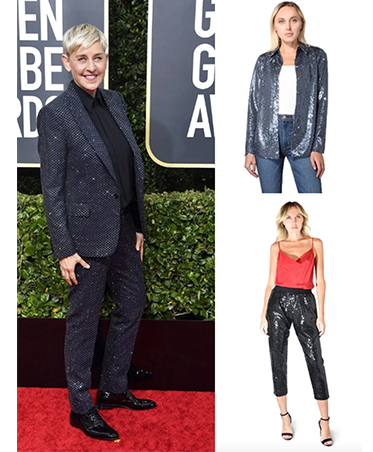 You can always rely on Naomi who brought plenty of glamour to the Golden Globes 2020, and Armani Prive, who gave metallic a whole new meaning, rather than being completely from incandescent material, the curve skimming bodice features glittering stones throughout the dress, yet what really transforms this dress from beautiful to iconic is the crossed halter neckline in a black velvet with evenly placed crystal studs. We can't take our eyes off of Noami's shoulders, looking amazing in this drape and red lip ooze adds Old Hollywood glamour. Draping is an interesting game in fashion and we love how BIRGITTE HERSKIND Brooklyn Blouse In Black looks in its unique drape and has a vibe of the black gown and a complete monochromatic metallic look.
Let us know your favorite look and tag us in your favorite Bleu Clothing Golden Globe edit.
Wishing all our readers a fabulous year ahead!